The Compounding Center Team
We take accountability for each other, our patients, and the general well-being of our company with utmost attention and care.
Joseph P. Navarra, R.Ph.
Joseph P. Navarra, R.Ph. is the owner of the Town Total Compounding Center, in Woodbury, N.Y. Joseph P. Navarra graduated from St. John's University College of Pharmacy and Health Sciences in Queens, New York. The Town Total Compounding Center is a PCAB Accredited compounding only pharmacy providing sterile and non-sterile compounding prescriptions. Previous to this he was the Executive Vice-President of Town Total Health, independent pharmacies that had a focus on specialty pharmacy. The specialties served there were HIV, Transplant and Hepatitis-C patients in the New York Metropolitan Area. He has been involved with adherence programs, refill alignment services, MTM and investigational drug studies while owning Town Total Health. The compounding pharmacy follows USP <795>, <797>, <800> guidelines and Joseph has been compounding for over 30 years. Joseph has been very involved in professional organizations promoting and enhancing the practice of pharmacy at a high level. He is a past President and past Chairman of the Italian-American Pharmacists Society and a past President and past Chairman of the Pharmacists Society of the State of New York, a board member of the New York Pharmacists Society and currently serving on the board of the Alliance for Pharmacy Compounding. Joseph is certified in delivering Medication Therapy Management and in Pharmacy-Based Immunization Delivery training. He has received many awards while practicing pharmacy including the Distinguished Young Pharmacists Award, Preceptor of the Year awards and Innovative Pharmacy Practice Award.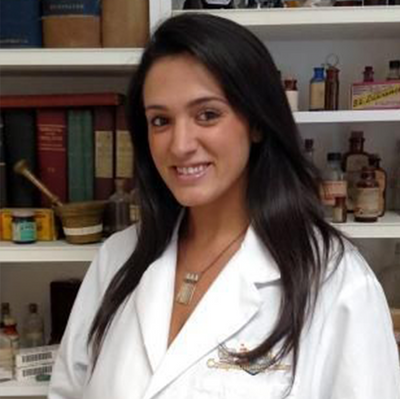 Kristin M. Cole, Pharm.D.
Kristin M. Cole, Pharm. D, is a consutling compounding pharmacist who has been working for the Town Total Compounding Center for four years while attending St. John's University. She is a graduate of St. John's University Class of 2017, she was an active member of the Rho Chi Society, the academic honor society in pharmacy whose mission is to promote the development of intellectual leaders and recognize outstanding scholarly attainment. Kristin had made the dean's list each semester of pharmacy school and was the recipient for the 2016 Lawrence Irene Scholarship which acknowledges high academic achievement. Her strong work ethic and compounding experience has led her to educate rotation students as well as compound with skill and passion. Kristin assists with patient consultation calls as well as prepares each prescription specially formulated for those patients' needs. Her knowledge and skills of compounding have made her an active member of this team at the Town Total Compounding Center.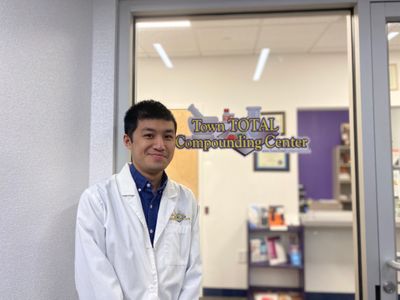 Justin J. Wu, Pharm.D.
Justin is a Quality Assurance Officer and Compounding Clinical Specialist who recently joined the Town Total Compounding team after graduating Cum Laude from St. John's University in 2019. He was an active member of Kappa Psi pharmaceutical fraternity, whose mission is to develop leaders with a passion for service to their community, while creating lifelong professional connections. Throughout pharmacy school, Justin excelled in his studies while practicing as a pharmacy intern in community settings. He has extensive knowledge regarding care coordination between patients and providers, and actively seeks to optimize patient care.
As Quality Assurance Officer, Justin is responsible for enforcing all safety procedures and ensuring quality assurance practices, including proper maintenance, biological testing, and monitoring of all equipment and sterile compounding rooms in accordance to USP <795>, USP <797>, and USP <800> standards. As a Compounding Clinical Specialist, Justin formulates and prepares prescriptions that address unique patient needs, while working closely with our physicians, dentists, veterinarians, and their staff members.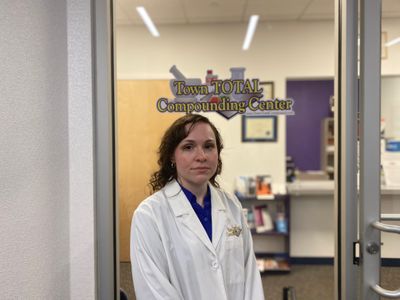 Mary Jeanne Fenn, Pharm.D.
MJ is a compounding pharmacist who began working at Town Total Compounding Center in 2019 while studying in the Doctor of Pharmacy program at St. John's University. Through persistent hard work and dedication, she attained a high level of academic achievement throughout her education. She earned her place in the pharmacy honor society, Rho Chi, and ultimately graduated second in her class as the recipient of the President's Silver Medal in the Class of 2020. Mary Jeanne carries this diligence into her compounding work, as well as into her role as the Quality Improvement Officer, who ensures that Town Total Compounding Center provides the highest quality compounded medications and service to the patients entrusted in our care.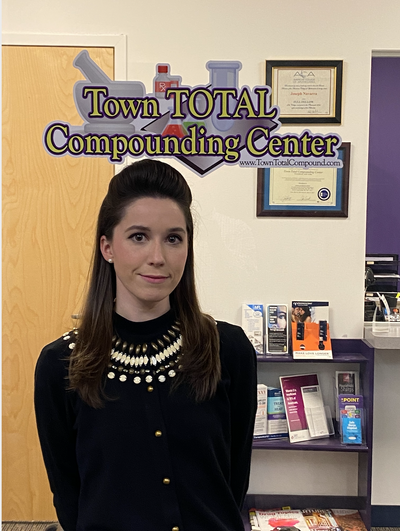 Morgan Murray, CPhT.
Morgan has worked in the pharmacy field for over 10 years. She has previously served as Lead Technician and Inventory Specialist of a retail pharmacy, successfully managing tasks while maintaining excellent customer service. Morgan is also a Nationally Certified Pharmacy Technician accredited by the PTCB. She takes great pride in assisting others with compassion and strives to provide quality patient care. At Town Total, she specializes in prescription management and is a dedicated claims adjudication advocate. Morgan is incredibly excited to be a part of the compounding team.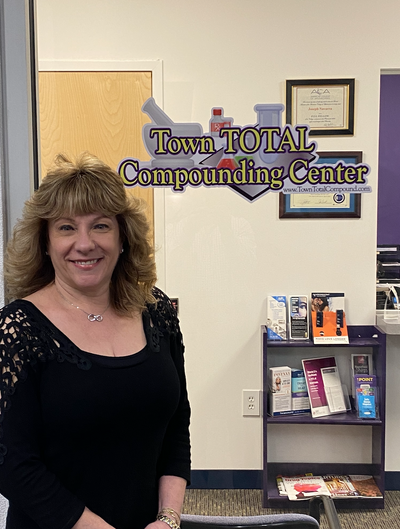 Anne Marie Varrassi
Anne Marie is a graduate of St. John's University. She has worked in various fields, most recently medical billing. She has two beautiful daughters - Gianna and Alessandra. She loves her New York Islanders. She is a proud member of The Josephine Foundation, a 501C3 and has been working backstage on crew for over 20 years on many theatre performances. Anne Marie is thrilled to be the newest team member of the Town Total Compounding Center family. She is very grateful for the opportunity to work with such caring and wonderful people.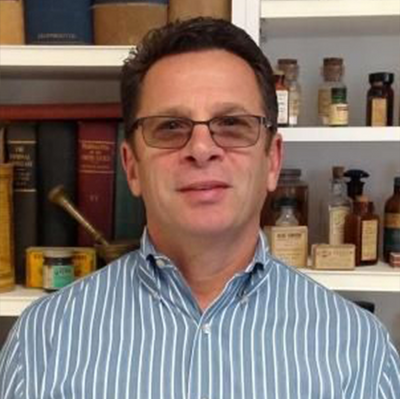 Victor DiFrisco
Victor DiFrisco has been is sales for over 35 years coming from the finance industry for which he was involved for almost 25 years. Victor ventured into the Compounding business in 2012 where he was instrumental in building his first compounding company from the ground up before coming to the Town Total Compounding Center to be Director of Business Development. Since joining the Town Total Compounding Center, Victor has established a Pain Management, Respiratory, Ophthalmology and Scar Therapy division. Victor's specialty is establishing new divisions for the lab where he's been able increase the sales of the company. Victor's hobbies are Snowboarding, Mix Martial Arts, and Boating.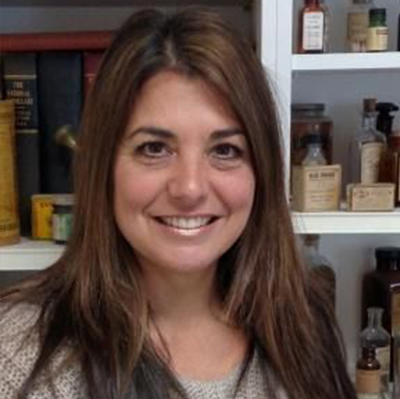 Lisa Rosato
Lisa Rosato previously worked at Western Suffolk Boces as a one-to-one paraprofessional for autistic children. Lisa found this both rewarding and challenging at the same time. To make a very difficult day for a child who cannot communicate into a much better productive day has been one of her greatest rewards. After doing that for several years Lisa came to join the Town Total Compounding Center team. Here she works as our customer care coordinator, while doing data entry and insurance verification.